It is October 2020 and I find myself moving between rooms in my York flat just to change up my daily routine. Or maybe I'm searching for a fresh perspective. I really should hang some more artwork on the walls. I'm four weeks into my masters degree and while the pressure is ever-mounting, the science is exponentially more exciting. I was quite taken by the recent discovery of Pleistocene footprints in the mud, that document one individual's long and likely tiring journey on what would be to us, uncertain terrain.
The necessary companion to uncertainty is the potential to adapt, of course. That can be difficult when further study already demands so much of us. During Autumn term I am taking a skills module in virtual anatomy and although I wouldn't have considered myself particularly IT literate a year ago, I am rather impressing myself. Here's a very colourful Chimpanzee (Pan troglodytes) skull I am currently segmenting in Avizo lite (Fig 1). It only took me half a Saturday to realise where the eraser tool was. One step at a time I suppose…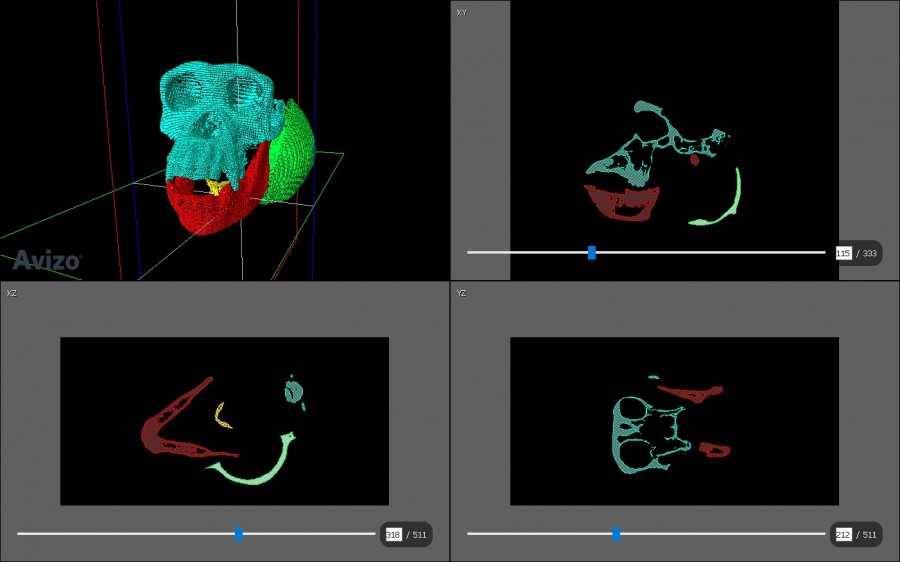 I studied at York during my undergraduate and the richness and vibrancy of the community in King's Manor is difficult to replicate through Zoom alone. So when I'm not playing around with ape skulls, I've been trying to reach out and connect with other students and archaeologists. I and a few fellow course mates have set up weekly 'Drinks and PalaeoThinks' event for us to continue our seminar discussions on Palaeolithic lifeways, much like we would if we were attending in-person. I try to hop on Twitter at least once a day, even if just for a few minutes, and I've found it's a great place to keep informed about ongoing research, exciting new discoveries and make a few new friends while I'm at it.
One of the most dramatic changes in academia over these difficult months has been the increasing accessibility of all manner of online resources. Webinars and captioned content; re-playable lectures and pdfs in place of hardbacks; scrapped admission fees for conferences and previously sequestered content freely available on international video-hosting platforms. If you are inclined, make the most of these opportunities – I know I am!
Where most of us will feel naturally inclined to look to the past, this year has taught us that engaging with modern technologies invites us to embrace the future. Many of the students I have met are attending classes from a distance and are realising life-long dreams of studying archaeology, that prior to this year would have been unattainable.
Of course, the many frustrations and fears resulting from Covid-19 are palpable. With the final few months of 2020 ahead of us, much like the unknown Pleistocene trackmaker, we are embarking on our own trek. Yet despite the looming presence of the unknowns, the future of archaeology in many ways looks brighter than ever.