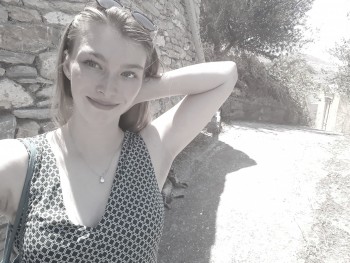 I am a second year BA Archaeology student. I came to archaeology through quite a roundabout route but I have now discovered something I very much enjoy. Archaeology can appeal to everyone because it covers every discipline and every time period from the beginnings of human evolution through to the present day. My interests lie mostly in prehistory; I am fascinated by human evolution and, highlighted by a module I'm currently taking, the comparisons between the earliest modern humans and Neanderthals. Alongside this I am very interested in Palaeolithic art and what this can tell us about early human beliefs and how they thought and interacted with their world.
Outside of my degree, horses and handball are my main distractions. I have been riding horses since the age of 5; my parents bought me 12 riding lessons for Christmas one year, after much begging, and I've never looked back. I discovered the sport of handball when I came to university, it's very popular in Europe but never seems to have taken off in the UK. I'm not sure why because it's very fast paced so a lot of fun, and I have met some of my best friends at uni through it.
I wanted to be an editor at The Post Hole because I think it will introduce me to new areas of archaeology, and because I enjoy the writing and researching side of the course the most. I'm excited to work with a new team of people and to discover more about archaeology in the process!